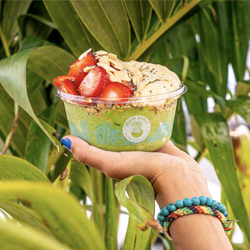 Playa Bowls is New Jersey's original superfruit bowl shop serving up flavors of acai and pitaya. Not only are they making superfruit bowls, but they also serve up smoothies, juices, and more from the freshest and highest quality ingredients.
All of this magic was inspired by founders Rob Giuliani and Abby Taylor, who experienced a variety of superfruit bowls on surf trips. They set out to bring the flavors of the tropics home for family and friends to enjoy.
Since then, Playa Bowls has flourished into more than 104 locations nationwide, thousands of employees, and a mission to lead communities in healthy, sustainable living.
Warren Sidosky joined Playa Bowls in 2018 as their Chief Financial Officer. One of his first tasks was getting to know all of their systems. Playa Bowls uses Clover for their POS, and DAVO was already installed in their shops. He reached out to the founders of DAVO and liked what they had to say and offer. He felt this could save time for him and his accountant.
Playa Bowls uses DAVO in all of their corporate locations and educates their franchisees about the convenience of automating their sales tax with DAVO. Warren understands how sales tax can overburden business owners.
Work ON Your Business, Not in Your Business
"Why be burdened by sales tax when there is a solution, and it isn't a headache anymore. Sales tax is just another task that doesn't make you any money, so why should you spend your valuable time on it?" he asks. It is hard to put a dollar figure to your time, but he knows it should be used to add value to your business and not spent on non-value-added tasks like sales tax.
Working with so many franchisees and stores, Warren knows that cash-flow can be challenging, especially when you start and grow your business. By automating their sales tax with DAVO, they ensure their sales tax is set aside accordingly.
"Using DAVO is a good safe way to make sure the money is set aside. You can almost set it and forget it."
The Helpful Support Team Playa Bowls Needs
Playa Bowls has loved the support they have received from the DAVO Sales Tax team. Warren said relationships are essential in their business. He wants all of their stores and franchisees to have a natural support system.
Warren loves the fact that he has a real DAVO team member to talk to when he needs it. "I can pick up the phone and speak to someone! It is important to have accessible partners that you can connect with. That support level means a lot to us."
Playa Bowls is growing quickly. Warren and his team are excited to have a team like DAVO that can grow and scale along with them and let them not be distracted with sales tax.
"Go and do what you are good at doing! This is why we have partners, like DAVO, to save us time and do what they are experts at doing – sales tax."